Last semester I student taught in fourth grade. I loved my students, they were the sweetest kids! Fourth grade was older than I wanted, but I ended up really enjoying my time with them. At the end of my 12 weeks, I wanted to do something for them, but 48 kids is a lot of gifts to give! (I saw two classes of 24 each day, so 48 total). I ended up deciding to make each student a bookmark and give them a cool pencil. But not just any bookmark would do! I decided to copy the ones I found on
Tally's Treasury
.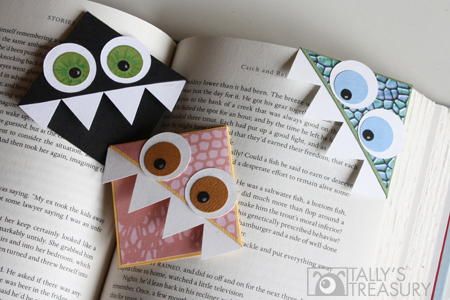 Well, it was a much larger undertaking than I thought! I ended up making 50 of them, but it took SIX HOURS. Yes, a literal 6 hours. Some friends and I made them for our students and watched movies, which made the time go faster. But it still took quite a while. I ended up doing them a bit differently then the instructions simply because I was making so many. I basically just cut out a few steps. Scroll down to see what I mean!
The aftermath of the table. So much clean up!
Even at an artsy angle, a messy table still looks like a mess!
Our finished bookmarks!
See, a little different, but still adorable!
Demonstrating how the bookmark can go over another page.
Most of my bookmarks! I love that each one is different. I made sure there no two bookmarks were identical. On the back of each one I wrote the student's name so there would be no mix up.
My kiddos loved them! I went and visited them a few weeks ago and several kids showed me the bookmark in their independent reading book. I'm glad I was able to give them something cute, inexpensive (though time consuming!), and practical. If I have time this summer, I think I will make one for each of my students for next year as birthday gifts.